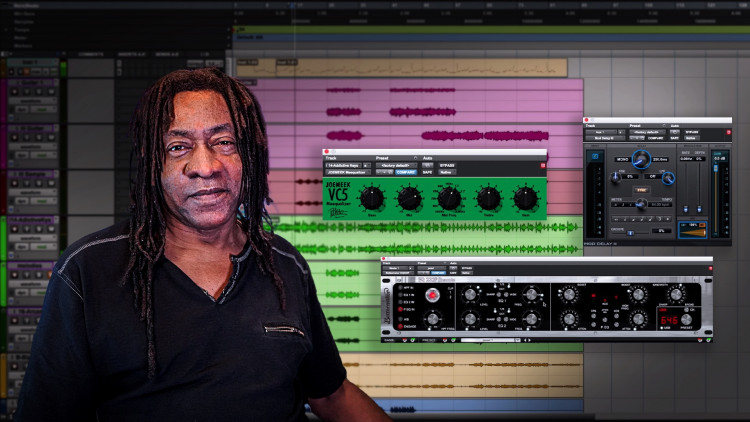 28min
(20)
With the production complete, and the files exported, it is finally time to take the "Light Shine Through" to the legendary Jimmy Douglass for mixing.
See how Jimmy Douglass:
Prepares the session for mixing
Explains his analog mix bus chain
Makes arrangement edits on the fly as ideas come
Adds width with his Neve 8816 Summing Mixer
EQs the piano and adds delay
Watch Jimmy Douglass mix "Light Shine Through" from Jared Evan. Only on pureMix.net
Hardware
Bettermaker EQ 232P
Neve 8816
Neve VR Channel Strip
Plug-ins
FabFilter Micro
JOEMEEK MEEqualizer
ModDelay III
Pro Memembership
Watch all videos for$24.99 / month
Jimmy Douglass
Jimmy Douglass (also known as The Senator) is an American four-time Grammy winning recording engineer and record producer, whose prolific career has spanned more than four decades. During the 1980?s, Douglass continued to hone his engineering skills while also taking on the role as producer. He engineered and produced established artists including The Rolling Stones, Slave, Odyssey, Roxy Music and Gang of Four. Presently, he continues to display his versatility by remaining current while drawing from his years of experience. Douglass is best known for bringing unconventional techniques into the studio and encouraging artists to transcend genre restrictions. He is credited with bringing a raw edge to sound and specifically bringing a heavy funk bass sound into rock music. His hard work and immense talent has carved a place for him among some of the most respected engineers and mixers in the world.
Credits
Pharrell Williams
Justin Timberlake
Alicia Keys
Jay Z