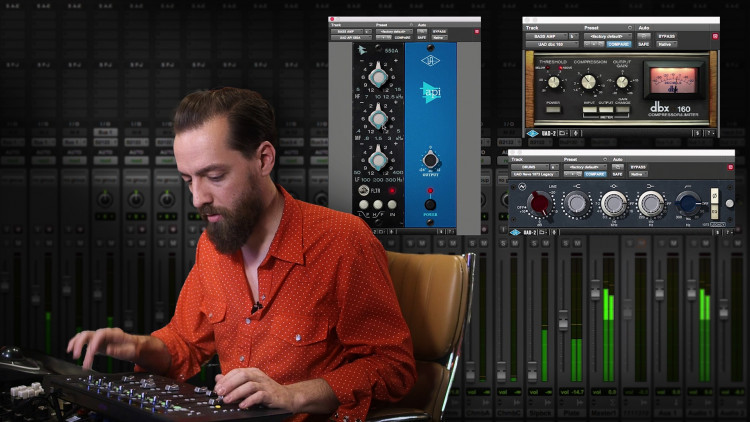 46min
(17)
After two days of tracking at the Legendary "Sam Phillips Recording" in Memphis, Tennessee, Matt Ross-Spang, Eli "Paperboy" Reed, The Hodges Brothers, The Masqueraders, and Ken Coomer have created two soulful songs that are ready for the mixing desk.
In this episode, Matt and Eli pull up the multitrack for "That's Love" and create the final mix.
See how Matt Ross-Spang:
Breaks down his philosophy on hybrid mixing
Explains how he preps his sessions for mixing
Shows his technique for processing the drum kit as a whole, instead of individual microphones
Sculpts the bass guitar for the perfect amount of clarity and body without stepping on the kick drum
Explains why gain staging for fader resolution can help when you start to automate
Explains why voltage peaks can cause clipping before your meters show you, and how he deals with them during the mix using his Spectrasonics V610s
Blends in his Fairchild 670 on the 2 Bus
Tries his Fultone tube tape echo on the vocal
Patches in the plate reverb at Sam Phillips Recording
Sets up a parallel compressor on the drum kit and explains converter offset and how to compensate for it
Join Matt Ross-Spang, Eli "Paperboy" Reed, The Hodges Brothers, Ken Coomer, and The
Masqueraders inside the legendary Sam Phillips Recording in Memphis, TN, for an incredible recording event, from Start To Finish. Only on pureMix.net
Software
EQ 3 7-Band
FabFilter Pro Q-2
Mod Delay III
Trim
UAD API 550A
UAD dbx 160
UAD Neve 1073 Legacy
1969 Spectra Sonics Console
Fairchild 670 MKII
Fulltone Tube Tape Echo
Sam Phillips Recording Service Plate Reverb
Spectra Sonics 610
Spectra Sonics V610
Pro Memembership
Watch all videos for$24.99 / month
Matt Ross-Spang
Matt Ross-Spang is a Multi award-winning engineer, mixer, and producer. His first brush with greatness began at only 14 years old when he received 2 hours of studio time at Sun Studios in Memphis, TN, for his birthday.
He went on to intern at Sun Studios when he was 16 and learned what it meant to bring recording back to its roots. Matt now operates out of the newly renovated Studio B at Sam Phillips Recording in Memphis, TN, which he now calls "Southern Groove."
Among the many incredible entries in his discography, Ross-Spang was hired in 2016 by Sony Records to mix 18 previously unreleased songs by Elvis Presley from his historic 1976 sessions from the Jungle Room at Graceland.
Known for his unique taste and ability to preserve old school recording techniques and bring them into today's music, Matt Ross-Spang has worked with some of the world's most cherished artists from the most legendary studios in recording history.
Credits
John Prine
Al Green
Margo Price
Elvis Presley
Eli "Paperboy" Reed
Mary Chapin Carpenter