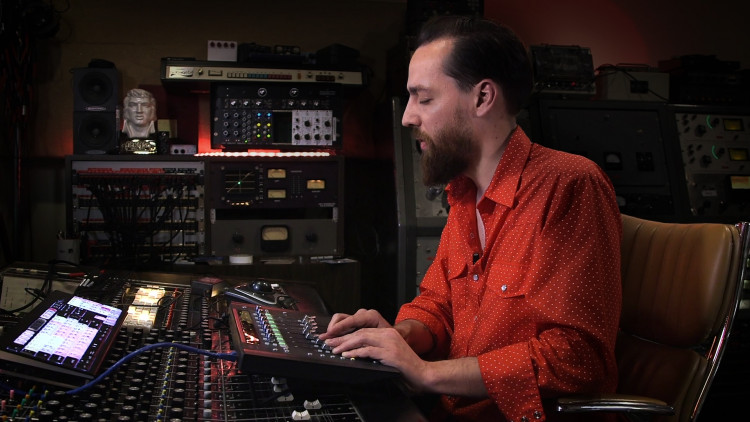 01h 21min
(24)
Continuing with the final mix of "That's Love," Matt Ross-Spang breaks out his artist mix controller to add his personal touch to the tracks of "That's Love."
In this episode, Matt and Eli continue mixing "That's Love," dialing in the final details with Matt's organic approach to automation.
See how Matt Ross-Spang:
Talks through his approach to automation
Focuses on each individual instrument to make sure the essential moments are showcased
Explains phase issues that can occur when micing a Leslie cabinet
Works on the balance of the left and right sides of the mix
Automates reverb sends on individual elements of the mix
Discusses the benefits of having the client in the room and addressing their notes on the spot
De-esses vocals and explains the problems easing can have when the time comes to print the vinyl
Has Eli do the final fade-out
Explains his process for printing full resolution and client files for review
Join Matt Ross-Spang, Eli "Paperboy" Reed, The Hodges Brothers, Ken Coomer, and The
Masqueraders inside the legendary Sam Phillips Recording in Memphis, TN, for an incredible recording event, from Start To Finish. Only on pureMix.net
Software
EQ 3 7-Band
FabFilter Pro Q-2
FabFilter Pro-DS
FabFilter Pro-MB
Waves L1 Limiter
Mod Delay III
Trim
UAD API 550A
UAD dbx 160
UAD Neve 1073 Legacy
1969 Spectra Sonics Console
Fairchild 670 MKII
Fulltone Tube Tape Echo
Sam Phillips Recording Service Plate Reverb
Spectra Sonics 610
Spectra Sonics V610
Pro Memembership
Watch all videos for$24.99 / month
Matt Ross-Spang
Matt Ross-Spang is a Multi award-winning engineer, mixer, and producer. His first brush with greatness began at only 14 years old when he received 2 hours of studio time at Sun Studios in Memphis, TN, for his birthday.
He went on to intern at Sun Studios when he was 16 and learned what it meant to bring recording back to its roots. Matt now operates out of the newly renovated Studio B at Sam Phillips Recording in Memphis, TN, which he now calls "Southern Groove."
Among the many incredible entries in his discography, Ross-Spang was hired in 2016 by Sony Records to mix 18 previously unreleased songs by Elvis Presley from his historic 1976 sessions from the Jungle Room at Graceland.
Known for his unique taste and ability to preserve old school recording techniques and bring them into today's music, Matt Ross-Spang has worked with some of the world's most cherished artists from the most legendary studios in recording history.
Credits
John Prine
Al Green
Margo Price
Elvis Presley
Eli "Paperboy" Reed
Mary Chapin Carpenter