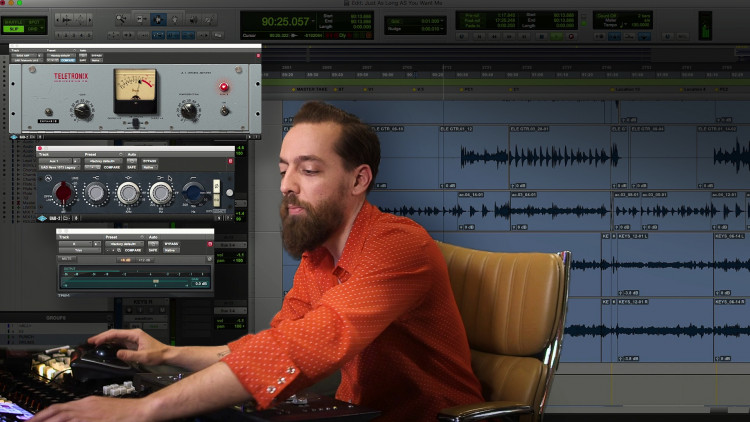 31min
(13)
Now that the mix for "That's Love" is in the bag, it's time to move on to song number two!
In this episode, Matt begins the mix for "As Long As You Want Me," and discusses topics like how they achieved the Al Green sound by driving forward that goal at the very start of tracking.
See how Matt Ross-Spang:
Explains why he decided to mix both of Eli's songs in the box
Talks about the importance of going with your gut and fixing things as you find them
Discusses the sonic characteristics of the Spectrasonics and Neve 1073 preamplifiers
Explains his approach to getting the "Al Green" sound that they were going for, starting with an older piece of tape
Adds in the immaculate sounding chambers at Sam Phillips Recording
Tweaks a De-Esser on Eli's vocal to control, but not destroy the sibilance
Join Matt Ross-Spang, Eli "Paperboy" Reed, The Hodges Brothers, Ken Coomer, and The
Masqueraders inside the legendary Sam Phillips Recording in Memphis, TN, for an incredible recording event, from Start To Finish. Only on pureMix.net
Software
FabFilter Pro-DS
FabFilter Pro Q-2
FabFilter Pro Q-2
UAD Neve 1073 Legacy
UAD Teletronix LA-2
Pro Memembership
Watch all videos for$24.99 / month
Matt Ross-Spang
Matt Ross-Spang is a Multi award-winning engineer, mixer, and producer. His first brush with greatness began at only 14 years old when he received 2 hours of studio time at Sun Studios in Memphis, TN, for his birthday.
He went on to intern at Sun Studios when he was 16 and learned what it meant to bring recording back to its roots. Matt now operates out of the newly renovated Studio B at Sam Phillips Recording in Memphis, TN, which he now calls "Southern Groove."
Among the many incredible entries in his discography, Ross-Spang was hired in 2016 by Sony Records to mix 18 previously unreleased songs by Elvis Presley from his historic 1976 sessions from the Jungle Room at Graceland.
Known for his unique taste and ability to preserve old school recording techniques and bring them into today's music, Matt Ross-Spang has worked with some of the world's most cherished artists from the most legendary studios in recording history.
Credits
John Prine
Al Green
Margo Price
Elvis Presley
Eli "Paperboy" Reed
Mary Chapin Carpenter