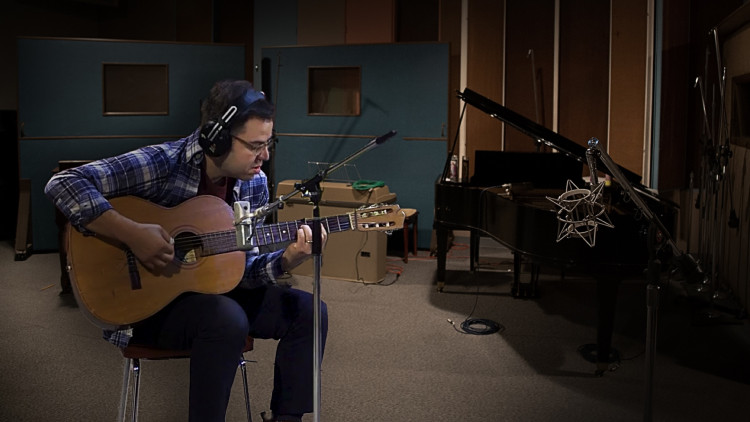 33min
(29)
The foundation of the song is solid, the Masqueraders have layered the backgrounds beautifully, and some of Memphis' finest have laid down some incredible horns on "Just As Long As You Want Me."
It's time to lay down some acoustic guitar overdubs with Eli "Paperboy" Reed.
In this episode, Matt will show you how he approaches recording acoustic guitars, and give you plenty of tips and tricks to apply to your next session.
See how Matt Ross-Spang:
Mics the acoustic guitar with a Sony 37a
Explains how to get an acoustic guitar player to realize their role in the tone of the guitar
Breaks down the signal chain for the acoustic guitar
Explains the importance of listening to the source and fixing issues in the live room before addressing them in the control room
Discusses how to balance overdubs in the mix to determine if the part, mic selection, or eq is correct for the song
Breaks down the cue system at Sam Phillips Recording, and explains why he likes giving everyone the same mix that he has to all of the players, as opposed to the players having their own control over the cue system
Dials in the Fairchild 660 on the acoustic guitar
Adjusts the microphone to get the perfect balance of attack and body
Work out parts to increase the tension of the bridge
Talks about different ways to communicate with a variety of artists
Join Matt Ross-Spang, Eli "Paperboy" Reed, The Hodges Brothers, Ken Coomer, and The Masqueraders inside the legendary Sam Phillips Recording in Memphis, TN for an incredible recording event, from Start To Finish. Only on pureMix.net
Mics
Sony C37A
1969 Spectra Sonics Console
Burl Mothership
Fairchild 670 MKII
Studer A27
Pro Memembership
Watch all videos for$24.99 / month
Matt Ross-Spang
Matt Ross-Spang is a Multi award-winning engineer, mixer, and producer. His first brush with greatness began at only 14 years old when he received 2 hours of studio time at Sun Studios in Memphis, TN, for his birthday.
He went on to intern at Sun Studios when he was 16 and learned what it meant to bring recording back to its roots. Matt now operates out of the newly renovated Studio B at Sam Phillips Recording in Memphis, TN, which he now calls "Southern Groove."
Among the many incredible entries in his discography, Ross-Spang was hired in 2016 by Sony Records to mix 18 previously unreleased songs by Elvis Presley from his historic 1976 sessions from the Jungle Room at Graceland.
Known for his unique taste and ability to preserve old school recording techniques and bring them into today's music, Matt Ross-Spang has worked with some of the world's most cherished artists from the most legendary studios in recording history.
Credits
John Prine
Al Green
Margo Price
Elvis Presley
Eli "Paperboy" Reed
Mary Chapin Carpenter