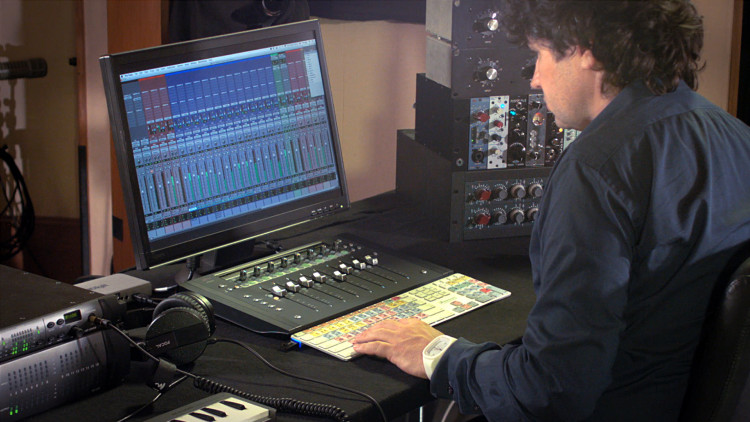 01h 23min
(75)
Deconstructing the Mix of 'Words to Say'
'Words To Say' is a great example of modern pop production with a blend of acoustic and electronic drums, layered synths, guitars tracks, and tons of cool subtle production tricks.
You may have seen producer Fab Dupont and the South African band The Arrows take the song 'Words to Say' from demo track to a mix-ready session in Start to Finish: The Arrows - Production . In this 80 minute tutorial, Fab Dupont breaks down his final mix of that same Pro Tools session.
Since this is an enormous session, instead of starting the mix from scratch, Fab deconstructs the mix from the final record. Track by track, he analyses every setting and explains the thought process behind all of his mix decisions. Fab shares all the tips and tricks he used to make this song sound huge. This mix was performed with 95% plugins except for analog summing and some key analog mix bus processing.
This is your opportunity to see how the pros manage a big session and what goes into mixing a major label release.
Be sure to check out how Fab collaborated with The Arrows to produce "Words to Say"
Universal Audio UAD: DBX160, SPL Transient Designer, LA2A, EMT140, EMT250, Lexicon 224, MXR Flanger, Moog Filter, Pultec Legacy, Little Labs IBP, Neve 1073
Soundtoys: Decapitator, Panman, Devil-Loc, Echoboy
Sonnox: Oxford Dynamics, Oxford EQ, Suppresser, Oxford Limiter
Plug&Mix: Digital Reverb, Transcontrol
Massey: Tapehead
Avid: Eleven, Boom, Xpand2
Waves: H-Delay
"Words to Say" by The Arrows - iTunes or Spotify
Pro Memembership
Watch all videos for$24.99 / month
Fab Dupont
Fab Dupont is an award-winning NYC based record producer, mixing/mastering engineer and co-founder of pureMix.net.
Fab has been playing, writing, producing and mixing music both live and in studios all over the world. He's worked in cities like Paris, Boston, Brussels, Stockholm, London and New York just to name a few.
He has his own studio called FLUX Studios in the East Village of New York City.
Fab has received many accolades around the world, including wins at the Victoires de la Musique, South African Music awards, Pan African Music Awards, US independent music awards. He also has received Latin Grammy nominations and has worked on many Latin Grammy and Grammy-nominated albums.
Credits
David Crosby
Queen Latifah
Jennifer Lopez
Mark Ronson
Les Nubians
Toots And The Maytals