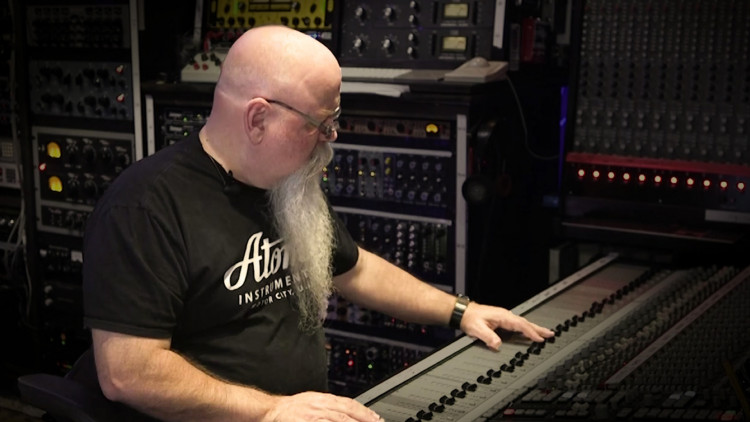 28min
(1)
With the static mix in place for "Live And I Learn" by The Weird Sisters, Vance Powell sets up his SSL console automation system and dives into the creative automation decisions for the mix.
Watch as Vance:
Explains how he sets up the SSL automation with timecode and why he has to "burp" the automation and write a static pass
Discusses the different automation modes like Absolute, Trim, Mix Match, and Auto Override
Rides the VCA faders on the vocals while listening at low levels
Does multiple automation rides on different instruments in the mix
This is your chance to join Nashville legend Vance Powell and The Weird Sisters at the world-famous Blackbird Studio and watch them craft "Live And I Learn" from Start To Finish.
Hardware
API 2500
API 550A
Bendini BASE
Chandler Limited TG1 Limiter
Empirical Labs Fatso
Epirical Labs Distressor
Eventide H910
GML 8900
Looptrotter Monster 2
Manley Massive Passive
Manley Variable Mu
Morley House Studios Compressor
Neve 33609
Retro Sta-Level
Strymon Volante
Software
Massey THC
Oek Sound Soothe 2
Orange Phaser
Sound Toys Echo Boy
Sound Toys Phase Mistress
UAD 1176 RevA
UAD 1176LN
UAD Ampeg SVTVR
UAD Fatso Jr
UAD LA-2
UAD MXR Flanger
UAD Neve 1073 Legacy
UAD Pultec EQP-1A
Valhalla Shimmer
Valhalla Vintage Verb
Waves L2
Pro Memembership
Watch all videos for$24.99 / month
Vance Powell
Vance studied electrical engineering in Missouri and started his career in live sound as a front-of-house engineer. In 2002, he moved to Nashville in order to become studio manager and chief engineer at the legendary Black Bird studios in Nashville. In 2006, he co-founded Sputnik studios along with Grammy-winning engineer Mitch Dane, still in Nashville.
Vance Powell has won 6 Grammy awards working with rock artists such as The Raconteurs, Kings of Leon, Jack White, Pearl Jam, The White Stripes, The Dead Weather and more.
Powell's domain of expertise is definitely mixing and producing rock music. As shown in his pureMix videos, Vance likes to experiment and create new fuller and exciting sounds using all kinds of pedals, echos, analog outboards and plug-ins. Vance was used to recording to tape and definitely has an analog approach that makes him commit to fewer good sounding tracks rather than piling up takes in Pro Tools.
His goal is to make something new and warm that fits the band's vision with upfront snare drums and powerful guitars. Rocking.
Credits
Jack White
Chris Stapleton
The Deadweather
The Raconteurs
Arctic Monkeys
Wolfmother