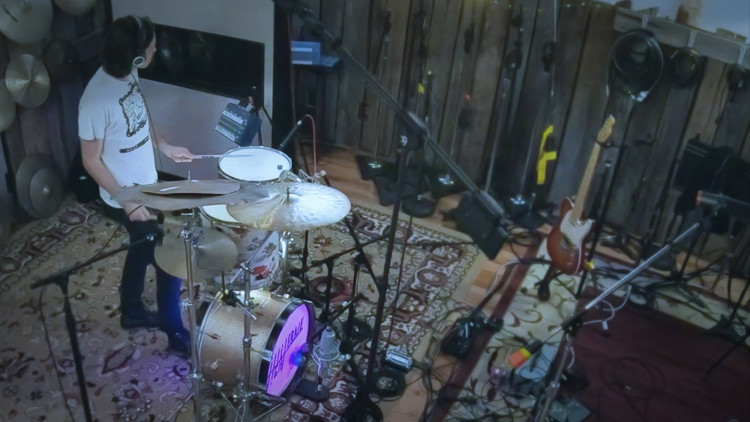 38min
(35)
In episode 3, Vance dials in the drums, guitar, and synth bass sounds, explaining every decision along the way.
Watch as Vance:
Dials in tones for the drums on his SSL console and massive wall of outboard gear
Explains his approach to getting the sound of the kit through the overheads
Inserts 1176 compressors on the main kick and snare drum channels
Uses multiple parallel processes during tracking on the drums
Checks the phase relationship of all of the elements of the kit in the overheads
Sends the "taste mic" to his famous "Beard Verb" pedal and Polysaturator
Creates a mono drum mix to enhance the sound of the kit
Uses a very unique technique to eliminate guitar hum during tracking. You'll just have to see... we cannot in good conscious type it out here. Trust us.
Demonstrates how he checks phase relationships in mono
Uses his vintage RCA microphone preamplifiers on guitars
EQs the guitar mics
Sets the tone for the octave down guitar
Explains the phase relationship between bass DIs and amplifiers and explains how he addresses it.
Watch the rest of the series here
Drum Mics
AEA R88
Ampex 1101
Chandler Red Mic
Chandler TG Mic
Neumann KM 84
Shure Beta 52
Shure SM 57
Guitar Mics
Neumann U67
RCA BK5
Shure SM 57
Hardware
1176 F
API 525 Compressor
BK1 Preamps
Beard Verb Custom Delay
Capi Preamps
Chandler TG1
Empirical Labs Distressor
Neve 33609
Pigtronix PolySaturator
Radial XTC
UTA MPDI-4
Pro Memembership
Watch all videos for$24.99 / month
Vance Powell
Vance studied electrical engineering in Missouri and started his career in live sound as a front-of-house engineer. In 2002, he moved to Nashville in order to become studio manager and chief engineer at the legendary Black Bird studios in Nashville. In 2006, he co-founded Sputnik studios along with Grammy-winning engineer Mitch Dane, still in Nashville.
Vance Powell has won 6 Grammy awards working with rock artists such as The Raconteurs, Kings of Leon, Jack White, Pearl Jam, The White Stripes, The Dead Weather and more.
Powell's domain of expertise is definitely mixing and producing rock music. As shown in his pureMix videos, Vance likes to experiment and create new fuller and exciting sounds using all kinds of pedals, echos, analog outboards and plug-ins. Vance was used to recording to tape and definitely has an analog approach that makes him commit to fewer good sounding tracks rather than piling up takes in Pro Tools.
His goal is to make something new and warm that fits the band's vision with upfront snare drums and powerful guitars. Rocking.
Credits
Jack White
Chris Stapleton
The Deadweather
The Raconteurs
Arctic Monkeys
Wolfmother