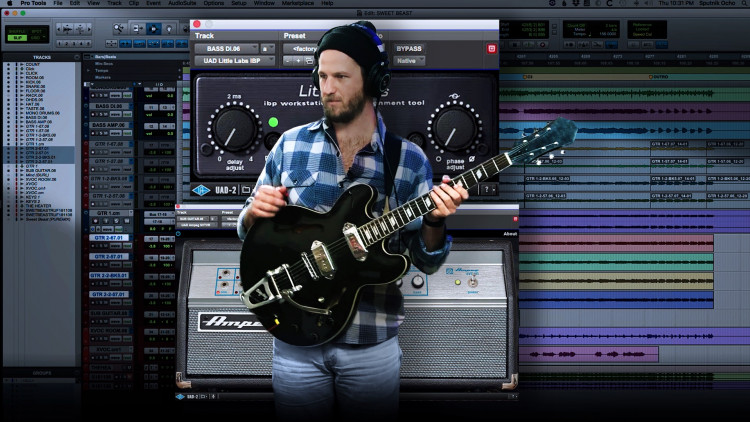 34min
(21)
Continuing on with recording the guitar overdubs, Vance and Jeff search for new parts and unique textures to add on to "Sweet Beast".
As they experiment with different effects settings and tones, everything gets committed to the recording, baking the record full of the intended vibe.
Watch as Vance:
Adds a Bricasti M7 reverb and stereo Fulltone Delays to the sustained chords during the chorus.
Sends the Fulltone Delays to a vibrato scanner
Works out parts with Jeff Gorman
Uses a MOOG Murf and adds a Gibson GA20 amp to the Fender Princeton reverb, for a stereo amp setup.
Sets up his "Spin Fader" trick, to causes the stereo delays to feedback onto themselves
Uses the OTO Biscuit 8 on the Bass to add an aggressive granular grit to the track
Watch the rest of the series here
Hardware
Bricasti M7 Reverb
Moog Moogerfooger Murf
Software
Sound Toys Echo Boy
UAD Biscuit
UAD Brigade Chorus
Pro Memembership
Watch all videos for$24.99 / month
Vance Powell
Vance studied electrical engineering in Missouri and started his career in live sound as a front-of-house engineer. In 2002, he moved to Nashville in order to become studio manager and chief engineer at the legendary Black Bird studios in Nashville. In 2006, he co-founded Sputnik studios along with Grammy-winning engineer Mitch Dane, still in Nashville.
Vance Powell has won 6 Grammy awards working with rock artists such as The Raconteurs, Kings of Leon, Jack White, Pearl Jam, The White Stripes, The Dead Weather and more.
Powell's domain of expertise is definitely mixing and producing rock music. As shown in his pureMix videos, Vance likes to experiment and create new fuller and exciting sounds using all kinds of pedals, echos, analog outboards and plug-ins. Vance was used to recording to tape and definitely has an analog approach that makes him commit to fewer good sounding tracks rather than piling up takes in Pro Tools.
His goal is to make something new and warm that fits the band's vision with upfront snare drums and powerful guitars. Rocking.
Credits
Jack White
Chris Stapleton
The Deadweather
The Raconteurs
Arctic Monkeys
Wolfmother