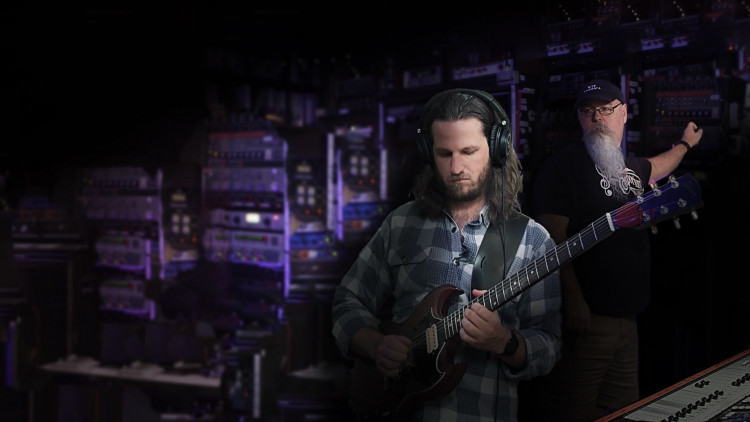 42min
(16)
Drums? Check. Faux Bass & Synth Bass? Check. Guitar Solo? Don't mind if we do!
To fill out the middle jam section of the song, the entire crew gets involved in the creation of the guitar solo, with Jeff playing, and Vance and Jake tweaking on various pieces of gear to create a cathartic and bold solo that makes it impossible to ignore in the track.
Watch as Vance:
Record's Jeff Gorman's guitar solo
Creates an exciting comp from the takes
Creates percussive feedback with Jake playing the guitar pedals and Vance dialing in unique outboard effects
Bandwidth limits extra guitar parts to fit into the mix during tracking
Rides the faders of the delay returns on the solo live, to tape to adjust the wet/dry relationship
Creates drum samples with Jake Cochran
Places drum samples throughout the track
Further enhances the drum "taste mic"
Watch the rest of the series here
Hardware
Eventide 910
Kilobyte Delay Pedal
Klon Pedal
MXR Flanger/Doubler
Radial EXTC
Software
Pro Memembership
Watch all videos for$24.99 / month
Vance Powell
Vance studied electrical engineering in Missouri and started his career in live sound as a front-of-house engineer. In 2002, he moved to Nashville in order to become studio manager and chief engineer at the legendary Black Bird studios in Nashville. In 2006, he co-founded Sputnik studios along with Grammy-winning engineer Mitch Dane, still in Nashville.
Vance Powell has won 6 Grammy awards working with rock artists such as The Raconteurs, Kings of Leon, Jack White, Pearl Jam, The White Stripes, The Dead Weather and more.
Powell's domain of expertise is definitely mixing and producing rock music. As shown in his pureMix videos, Vance likes to experiment and create new fuller and exciting sounds using all kinds of pedals, echos, analog outboards and plug-ins. Vance was used to recording to tape and definitely has an analog approach that makes him commit to fewer good sounding tracks rather than piling up takes in Pro Tools.
His goal is to make something new and warm that fits the band's vision with upfront snare drums and powerful guitars. Rocking.
Credits
Jack White
Chris Stapleton
The Deadweather
The Raconteurs
Arctic Monkeys
Wolfmother