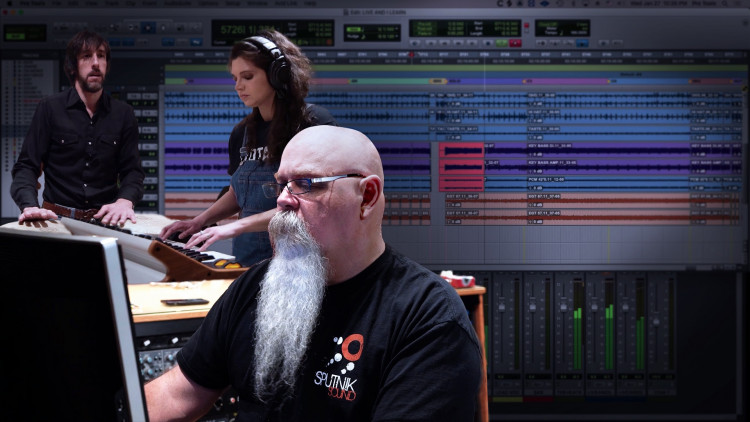 19min
(16)
With the track's foundation laid down, Vance works on some individual punches with the band before setting up the congas and clavinet for overdubs.
Watch as Vance:
Punches a cymbal grab with the drummer
Tries out different takes on the bill leading into the bridge
Punches spots on the sub-bass
Set up the congas and clavinet
This is your chance to join Nashville legend Vance Powell and The Weird Sisters at the world-famous Blackbird Studio and watch them craft "Live And I Learn" from Start To Finish.
AEA R88
Ampeg B-15
BAE 1073
Josephson E22S
Neumann FET 47
Neumann KM84
Neumann U67
Neve 31102
Neve 8078 Desk
RCA 77-D
Shure 57
Shure SM-7
Teletronix LA-2A
Universal Audio 1176
Pro Memembership
Watch all videos for$24.99 / month
Vance Powell
Vance studied electrical engineering in Missouri and started his career in live sound as a front-of-house engineer. In 2002, he moved to Nashville in order to become studio manager and chief engineer at the legendary Black Bird studios in Nashville. In 2006, he co-founded Sputnik studios along with Grammy-winning engineer Mitch Dane, still in Nashville.
Vance Powell has won 6 Grammy awards working with rock artists such as The Raconteurs, Kings of Leon, Jack White, Pearl Jam, The White Stripes, The Dead Weather and more.
Powell's domain of expertise is definitely mixing and producing rock music. As shown in his pureMix videos, Vance likes to experiment and create new fuller and exciting sounds using all kinds of pedals, echos, analog outboards and plug-ins. Vance was used to recording to tape and definitely has an analog approach that makes him commit to fewer good sounding tracks rather than piling up takes in Pro Tools.
His goal is to make something new and warm that fits the band's vision with upfront snare drums and powerful guitars. Rocking.
Credits
Jack White
Chris Stapleton
The Deadweather
The Raconteurs
Arctic Monkeys
Wolfmother