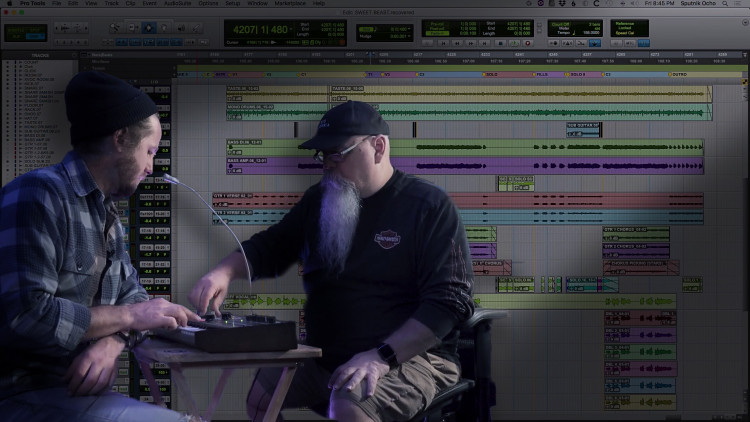 29min
(25)
Continuing with Vocal Production, Vance cues up his assistant engineer, Mike Fahey, to edit and tune the vocals before moving on to background vocals and additional production.
Watch as Mike Fahey:
Creates the "Super Comp"
Teaches his Melodyne tips, tricks and speed hacks
Melodynes the vocals.
Watch as Vance:
Produces and records the background vocals
Sets up a Vocoder patch and sends the background vocals through to thicken up the choruses.
Processes the vocoder tracks blend in with the track aesthetically.
Watch the rest of the series here
Software
Melodyne
Valhalla Freq Echo
Valhalla Vintage Verb
UAD Softube TLA-100A
Roto Speaker
Pro Memembership
Watch all videos for$24.99 / month
Vance Powell
Vance studied electrical engineering in Missouri and started his career in live sound as a front-of-house engineer. In 2002, he moved to Nashville in order to become studio manager and chief engineer at the legendary Black Bird studios in Nashville. In 2006, he co-founded Sputnik studios along with Grammy-winning engineer Mitch Dane, still in Nashville.
Vance Powell has won 6 Grammy awards working with rock artists such as The Raconteurs, Kings of Leon, Jack White, Pearl Jam, The White Stripes, The Dead Weather and more.
Powell's domain of expertise is definitely mixing and producing rock music. As shown in his pureMix videos, Vance likes to experiment and create new fuller and exciting sounds using all kinds of pedals, echos, analog outboards and plug-ins. Vance was used to recording to tape and definitely has an analog approach that makes him commit to fewer good sounding tracks rather than piling up takes in Pro Tools.
His goal is to make something new and warm that fits the band's vision with upfront snare drums and powerful guitars. Rocking.
Credits
Jack White
Chris Stapleton
The Deadweather
The Raconteurs
Arctic Monkeys
Wolfmother