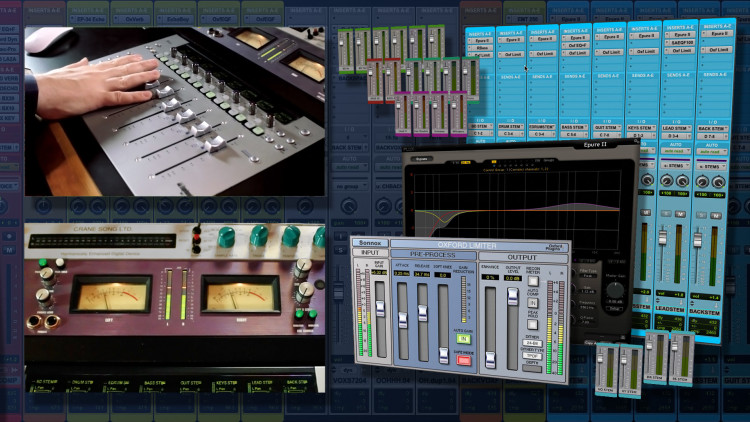 26min
(107)
Stem Mixing and Loudness Control
Stem mixing has many benefits
Faster workflow
Easily balance groups of tracks
Create perfect separation & clarity between instruments
Make things LOUD with less damage
In this video, Fab Dupont breaks down how to set your session up to stem mix and then walks you through his mix of The Arrows Prisoner where he dishes tricks on making louder and clearer mixes.
Stem mixing is one of the best ways to gain flexibility and bigger picture control over the shape of a mix as a whole. Become a pro at managing your mix's dynamic range and deliver radio-ready mixes.
Fab shows you how working in a stem mixing workflow has the added benefit of distilling a HUGE session down to just 8 channels that he can alway keep at his fingertips.
Plus when it comes time to print a performance track or create a Live session for the artist, his work is already done - no re-routing or repetitive bouncing necessary.
Pay close attention to the details in the routing that make Fab's setup incredibly powerful and easy to use.
P.S. Don't forget the most important detail of them all: always color your stem tracks Baby Blue.
Pro Memembership
Watch all videos for$24.99 / month
Fab Dupont
Fab Dupont is an award-winning NYC based record producer, mixing/mastering engineer and co-founder of pureMix.net.
Fab has been playing, writing, producing and mixing music both live and in studios all over the world. He's worked in cities like Paris, Boston, Brussels, Stockholm, London and New York just to name a few.
He has his own studio called FLUX Studios in the East Village of New York City.
Fab has received many accolades around the world, including wins at the Victoires de la Musique, South African Music awards, Pan African Music Awards, US independent music awards. He also has received Latin Grammy nominations and has worked on many Latin Grammy and Grammy-nominated albums.
Credits
David Crosby
Queen Latifah
Jennifer Lopez
Mark Ronson
Les Nubians
Toots And The Maytals