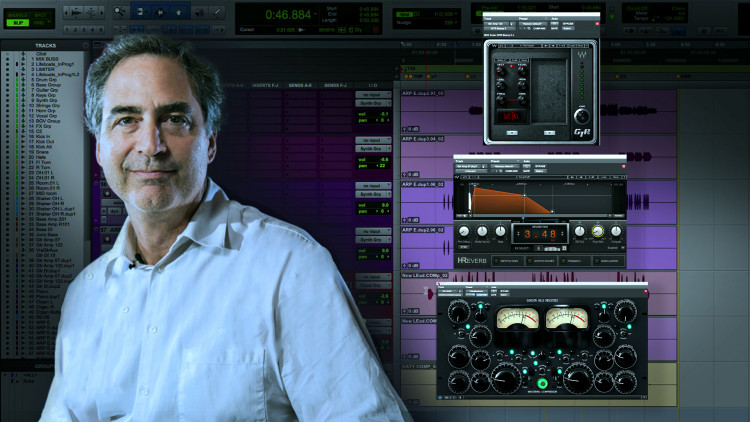 01h 06min
(35)
In part 1 of this addition to the Lifeboats series, Award Winning Engineer, Tony Maserati, opens the multitrack for the Will Knox song, "Lifeboats", and takes us all the way from hearing the song for the first time, to a completed powerful and energetic mix with his signature sound imprinted upon it.
Watch as Tony:
Discusses his process starting with his vision of the song.
Sets up the session with his template and workflow
Listens to the song for the first time to gather ideas
Experiments with drum sounds
Discusses the importance of ear training
Mixes the song in sections to flush out his ideas
Dials in the lead vocal sound early in the process
Watch legendary engineer, Tony Maserati mix his version of Lifeboats. Only on puremix.net
Learn More About The Lifeboats Series Here
Software
Altiverb 7
BF-76
EQ3 7-Band
FabFilter Pro-DS
FabFilter Pro L
FabFilter Pro MB
FabFilter Pro Q
GTR Stomp 2
H-Reverb
iZotope Ozone 7
Lo-Fi
McDSP ML4000
Mod Delay III
RVerb
Softube Saturation Knob
Sonnox Oxford Reverb
SoundToys Decapitator
SoundToys Devil-Loc
UAD Ampex ATR-102
UAD Chandler Curve Bender
UAD Fairchild 670 Legacy
UAD Massenburg Design Works EQ 5-5B
UAD Shadow Hills Mastering Compressor
UAD Softube Vintage Amp Room
UAD Studer A800
UAD Teletronix LA-2A Legacy
Waves API 2500
Waves Doubler 2
Waves Kramer HLS
Waves Kramer PIE
Waves L1-Limiter
Waves REQ 6
Waves Scheps 73
Waves SSL Channel
Waves SSL Compressor
Pro Memembership
Watch all videos for$24.99 / month
Tony Maserati
Tony Maserati is an American record producer and audio engineer who has worked with many mainstream artists including Lady Gaga, Beyoncé, Jason Mraz, James Brown, Mariah Carey, Notorious BIG, Black Eyed Peas, Destiny's Child and more. His work encompasses worldwide sales in excess of 100 million units. He won an Award for his work on Beyoncé Knowles' No. 1 single, "Crazy In Love", a Latin Award for Sérgio Mendes's Timeless (2006)
Maserati attended Berklee College of Music in Boston, Massachusetts for production and engineering. He relocated to New York City during the early days of the record-making business in New York City and was trained by the technical and engineering staff of legendary Sigma Sound Studios as well as the steady stream of R&B, Dance and Rock luminaries who booked the rooms there.
Credits
Beyonce
Alicia Keys
Gallant
Shawn Mendes
Lady Gaga
Jason Mraz