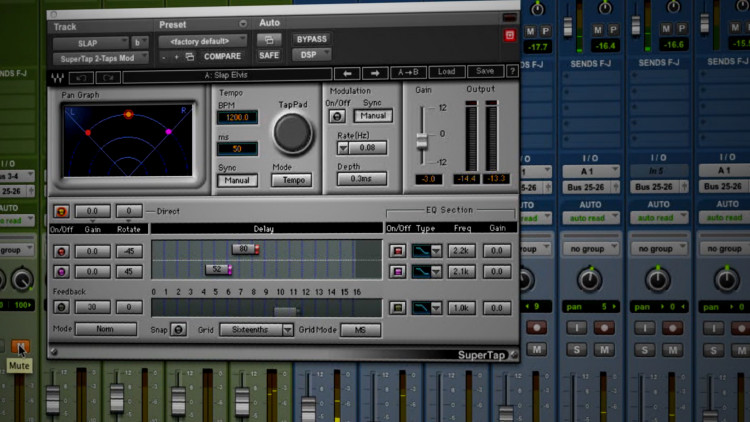 18min
(59)
In this video, famous engineer and producer Ryan West discusses his use of delays and shares his approach to putting space in a track without weighing it down and sweetening vocals without adding garbage.
Ryan has helped define the sound of a style with his work with Jay-Z, Eminem, Kid Cudi, Maroon 5, T.I, Rihanna and Kanye West amongst many others.
Delays are a great alternative to reverb to get a modern sound without that obvious tail. Ryan's techniques use simple plugins and are easy to understand and immediately applicable to any style of music. You will learn about short and long delays, Slapback Delays, Delay Throws, how to create a stereo image with delays, how to treat those delays with compression, distortion, eqs and reverb for better integration and clarity in the mix.
This will save you much time and grief in your the process of turning a demo into a real pro sounding mix with space and depth.
Waves Super Tap
Waves TrueVerb
Avid Delay
UA SSL E Series
Soundtoys Decapitator
Avid EQ3
Pro Memembership
Watch all videos for$24.99 / month
Ryan West
In addition to many Platinum, Gold and Diamond RIAA certifications, he's been twice nominated for the Album of the Year Grammy and has a further seven nominations to his credit. Ryan has also participated in numerous discussion panels with mixing heavyweights Tony Maserati, Joe Chiccarelli, Michael Brauer, Andy Wallace and mastering engineers Howie Weinberg and Bob Ludwig.
A skilled multi-instrumentalist and songwriter, Ryan also produces music for film and television. As of 2012 over 60 million albums have been sold worldwide that contain a credit to Ryan West.
Ryan helped forge the sound of hip-hop and rap music as we know it today by working with artists such as Eminem, Kanye West, Usher, Rihanna, Jay-z and more.
If you watch Ryan's videos on pureMix you will notice how much he pays attention to details and use his technics in order to produce a modern and punchy sound.
Credits
Eminem
Kanye West
Usher
Ritchie Havens
T.I.
Rihanna