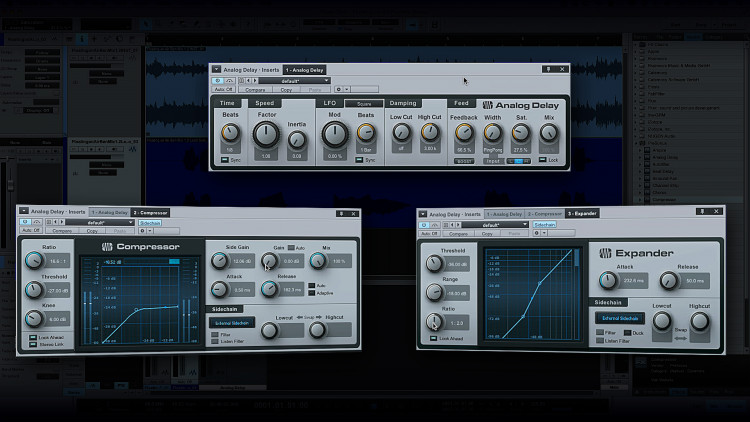 6min
(69)
Ducking Your Delays Out Of The Way
It's easy to have too much of a good thing, especially when that good thing is delay! Automating every single second of a delay send is tedious and unnecessary work, that's why the recording gods gave us tools like compressors and expanders with sidechain inputs to do our work for us.
Ben Lindell shows you one of the best tricks for containing the spray of echos and fit your delay returns perfectly into the vocal gaps, no automation required. This technique helps you keep your mix from getting too washy, cloudy, busy or over-processed.
In this tutorial Ben works in Presonus Studio One but this technique applies to any DAW.
You'll learn how to:
Achieve more clarity with your delays
Easily obtain a natural sounding balance between the delays and the dry vocal
Flip the trick around to an expander and gain dynamic control ove the delay tail
Pro Memembership
Watch all videos for$24.99 / month
Ben Lindell
Ben is a NYC based producer/engineer who has worked with artists from MGMT to Soulja Boy, Bebel Giberto to Lloyd Banks, Ryan Leslie, Olivia, Tony Yayo, Red Cafe, Edie Brickell, Carole Pope and hundreds of other artists from around the world. He grew up in Iowa and then attended the University of Miami.
In addition to being a fantastic musician he is also a tremendous geek when it comes to anything technical, be it software, plug-ins, microphones or outboard gear. It's this marriage of musical creativity and technical know-how that makes him an in demand producer/engineer.
Credits
50 Cent
Soulja Boy
Wale
Kelly Rowland
Chromeo
MGMT