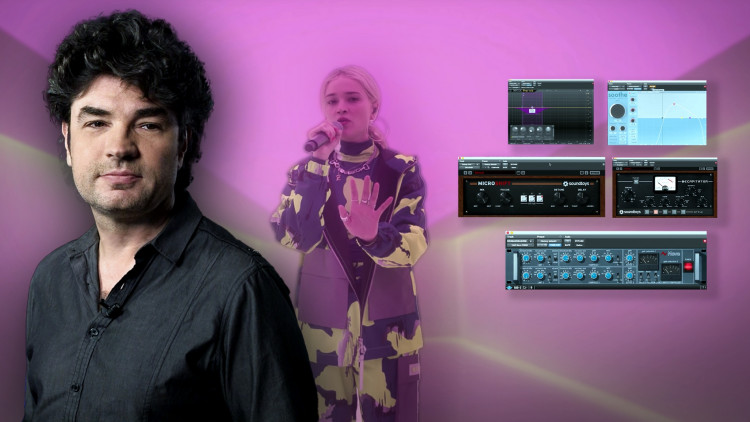 01h 43min
(43)
In 2017, Lolo Zouaï came bursting onto the pop music scene with single "High Highs to Low Lows," which has since gained millions of streams, Times Square billboard placements, and been received with critical acclaim by the world's most respected music publications.
After a brief meeting, Lolo, producer Stelios, and their team tagged award-winning producer and mixing engineer Fab Dupont to help shape the record into the smash hit it has become on the world stage.
In this pureMix exclusive tutorial, Fab breaks down how the record came to be, his input in the production stage, and how he approached mixing the album before deconstructing his entire mix, track by track, of the hit single "Moi."
Watch as Fab:
Explains how he met Lolo Zouaï, her team and how the project came to be
Plays the original demo he heard in the first meeting with the team
Explains the song structure suggestions he made in the production phase
Discusses how he had to organize the workflow with Lolo's team to work extremely quickly throughout the mixing of the full length record
Breaks down his gain staging for the mix
Describes his vision for the vocal sound of the track
Explains every detail of Lolo's vocal chain, and why he made the tweaks he did.
Gives the story of creating the 808 tone that carries the low end of the track
Dissects his parallel processing with the drums and bass of the track to teach how he crafted a fat and punchy foundation for the track
Goes through the synths, strings, and additional production for the rest of the track, showing how he molded each track to support the vocal performance
Software
apTrigga 3
Dyn3 Compressor Limiter
Eiosis E2 Deesser
FabFilter Pro DS
FabFilter Pro MB
FabFilter Pro Q2
Ghz Vulf Compressor 3
ModDelay III
Oxford Dynamics Compressor Limiter
Oxford Limiter
Oxford Reverb
Process.Audio Decibel
Process.Audio Sugar
Soothe
SoundToys Decapitator
SoundToys Devil-Loc
SoundToys Echoboy
SoundToys Echoboy Jr
SoundToys FilterFreak
SoundToys Little AlterBoy
SoundToys Microshift
UAD 1176 Rev A
UAD Dangerous BAX EQ
UAD dbx 160
UAD EMT 140
UAD LA3A
UAD Little Labs IBP
UAD MDWEQ5-5B
UAD Neve 33609
UAD Pultec-Pro Legacy
UAD SSL E Channel Strip
UAD SSL G Bus Compressor
UAD Studer A800
Valhalla Vintage Verb
Waves Abbey Road Vinyl
Waves Rbass
Waves Smack Attack
Pro Memembership
Watch all videos for$24.99 / month
Fab Dupont
Fab Dupont is an award-winning NYC based record producer, mixing/mastering engineer and co-founder of pureMix.net.
Fab has been playing, writing, producing and mixing music both live and in studios all over the world. He's worked in cities like Paris, Boston, Brussels, Stockholm, London and New York just to name a few.
He has his own studio called FLUX Studios in the East Village of New York City.
Fab has received many accolades around the world, including wins at the Victoires de la Musique, South African Music awards, Pan African Music Awards, US independent music awards. He also has received Latin Grammy nominations and has worked on many Latin Grammy and Grammy-nominated albums.
Credits
David Crosby
Queen Latifah
Jennifer Lopez
Mark Ronson
Les Nubians
Toots And The Maytals