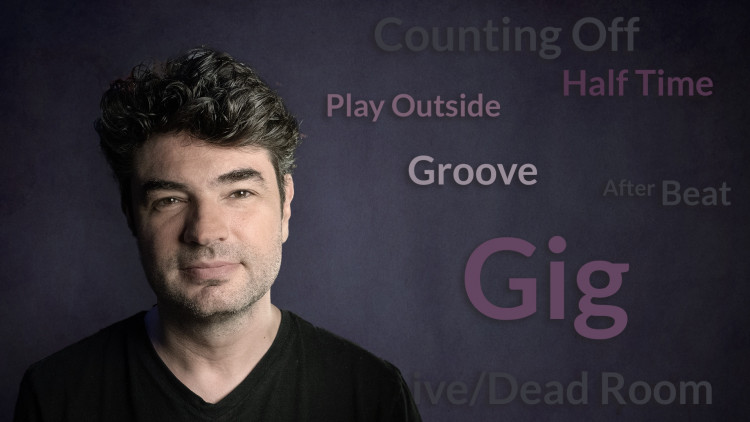 24min
(27)
Musicians speak many languages. Their native tongue, maybe a few others, music as a language itself, and of course they speak... "musician".
In this pureMix.net exclusive, award winning producer, Fab Dupont, explores the fascinating language musicians have developed over centuries in their natural habitat.
Learn complex terms like "Deep Pockets", "Playing Outside", "Playing Changes", "Block Chords", "Open Voicing" as well as important lifestyle choices like which room you should park the producer and their girlfriend/boyfriend in.
After watching this video, you'll be able to communicate with the hippest of pocket players grooving deep on the back beat out in the live room, and even the sit in players who improvise their riffs in the vamp way outside after the scat singer does the count off at the head of the first standard of your next gig… Ya dig?
Pro Memembership
Watch all videos for$24.99 / month
Fab Dupont
Fab Dupont is an award-winning NYC based record producer, mixing/mastering engineer and co-founder of pureMix.net.
Fab has been playing, writing, producing and mixing music both live and in studios all over the world. He's worked in cities like Paris, Boston, Brussels, Stockholm, London and New York just to name a few.
He has his own studio called FLUX Studios in the East Village of New York City.
Fab has received many accolades around the world, including wins at the Victoires de la Musique, South African Music awards, Pan African Music Awards, US independent music awards. He also has received Latin Grammy nominations and has worked on many Latin Grammy and Grammy-nominated albums.
Credits
David Crosby
Queen Latifah
Jennifer Lopez
Mark Ronson
Les Nubians
Toots And The Maytals