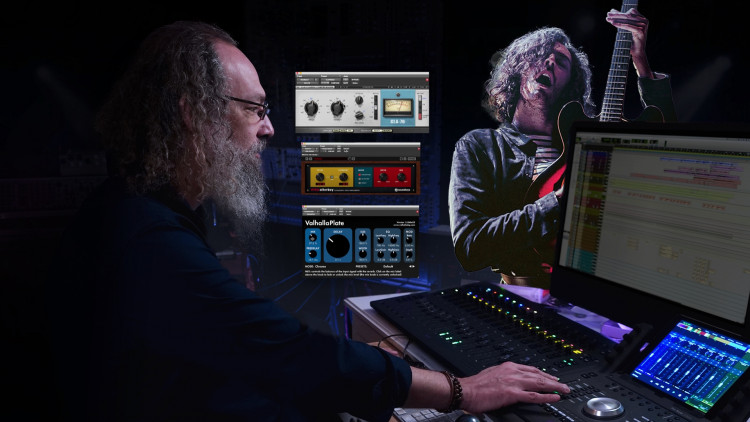 03h 05min
(21)
In 2019, Hozier's second, much anticipated full-length record "Wasteland, Baby!" peaked at #1 in the Billboard Top 200, Billboard Top Alternative Albums, Billboard US Folk Albums, and Billboard US Top Rock Albums.
For his second full-length record, Hozier once again called on the immense talent of world-renowned mixing engineer Andrew Scheps, who famously mixed Hozier's first chart-topping single "Take Me To Church" in 2014.
In this pureMix.net exclusive, Andrew pulls up his mixing session of the album's second single, "Movement." He breaks down his approach to the intricate arrangement, unique percussive elements, and powerful song climax, showing you how he mixed the chart-topping single.
See how Andrew Scheps:
Discusses pre-fader sends and when you need them
Explains his use of multiple parallel compressors on drums
Shows his use of the "Drums Dirt Bus" to add the distorted texture that brings the excitement to the kit at the end of the track
Breaks down the arrangement of the different keyboards, guitars, bass, and synths to build the monolithic harmonic structure of the song
Explains how he created space with imaging and delays on the lead synth line
Breaks down the vocal harmony arrangement
Watch Andrew Scheps, mix "Movement" from Hozier. Only on pureMix.net
Software
Air DB-33
Avid BBD Delay
Avid DYN3
Avid EQ3
Avid ReVibe II
Brainworx bx_digital V3
Braniworx HG-2 Black Box
Eventide H910
Eventide TVerb
Fab Filter Pro-DS
Leapwing DynOne
Liquid Sonics Seventh Heaven
New Fangled Audio Elevate
SansAmp
Sound Toys Devil-Loc
Sound Toys Echo Boy
Sound Toys Little Alter Boy
UAD Fatso Jr
UAD Pultec EQP-1A
UAD UA1176 AE
UAD dbx 160
Valhalla Plate
Valhalla Room
Wave Machine Labs Drumagog
Waves Aphex Aural Exciter
Waves CLA-2A
Waves CLA-76
Waves PuigChild 670
Waves Puigtec EQP1A
Waves Q1
Waves RCompressor
Waves Scheps 73
Waves Scheps Omni Channel
iZotope Ozone imager
Pro Memembership
Watch all videos for$24.99 / month
Andrew Scheps
Andrew Scheps is a music producer, mixing engineer and record label owner based in the United Kingdom. He has received Grammy Awards for Best Rock Album for his work on Red Hot Chili Peppers' Stadium Arcadium, Album Of The Year for Adele's 21, and also Best Reggae Album for Ziggy Marley's Fly Rasta.
Andrew started as a musician, but found that what he enjoyed most was working behind the scenes. This led him to study recording at the University of Miami. After graduating, he spent some time working for Synclavier, and then on the road with Stevie Wonder (as a keyboard tech) and Michael Jackson (mixing live sound). But he found his home in the studio, and he honed his craft working for producers such as Rob Cavallo, Don Was and Rick Rubin.
Andrew collaborated with Waves in order to create his own line of plug-ins which include the Scheps 73 EQ and the Scheps Parallel Particles.
Andrew is one of the best known mixing engineers in the world, well-known for his Rear Bus mixing techniques that he developed working on his 64 input Neve 8068 console and his love for distortion of any kind. If you are watching pureMix videos you will see that he managed to carry his analog sound signature over to a fully portable digital rig. These days, Andrew mixes completely In The Box as it allows him much greater flexibility and the ability to work on several project simultaneously.
Credits
Beyonce
Lana Del Rey
Red Hot Chili Peppers
U2
Michael Jackson
Green Day