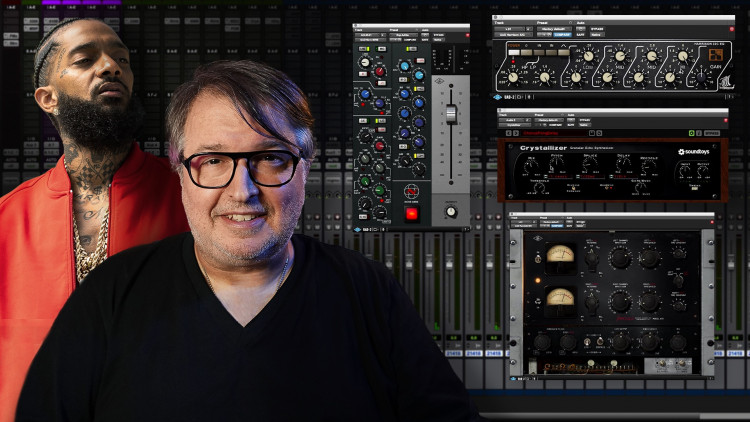 01h 14min
(49)
Watch Rich Keller Deconstruct His Epic Mix Of Nipsey Hu$$le's "Grinding All My Life"
The success of Grammy award winning artist, Nipsey Hussle's "Grinding All My Life" is no surprise with Nipsey's iconic style and lyrics, a track from Murda Beatz, and Rich Keller's epic mix.
In this pureMix.net Exclusive, first call mixer to Hip Hop royalty, Rich Keller, deconstructs his mix of "Grinding All My Life" by Nipsey Hussle.
Watch as Rich Keller:
Tells the history of the song
Breaks down his signature mixing philosophy
Talks about the difference between today's productions and one's that used to come in on 2" tape
Checks tracks for clicks, pops and other artifacts that may have happened during tracking
Explains when to effect a sound and when to leave it alone
Shows how he sets up a 33609 and Manley Massive Passive on the 2 bus for the beat
Breaks down his approach to EQ enhancement on Nipsey's lead vocal
Enhances the chorus vocal by enhancing the upper harmonics using EQ
Differentiates the verse vocal from the chorus vocals to create scene changes and movement from section to section
Shows each step of his vocal effects treatments that add the massive amount of depth, width and space this mix is famous for
Shows exactly how he crafted the delays in the chorus as requested by the producer
Uses a Neve 33609 for parallel compression on the lead vocal in the chorus for an extra lift
Watch Rich Keller, mix "Grinding All My Life" from Nipsey Hussle. Only on pureMix.net
Software
Soundtoys Crystallizer
Soundtoys PanMan
UAD dbx 160
UAD Fairchild 670
UAD Harrison 32C
UAD Lexicon 224
UAD Manley Massive Passive EQ
UAD Neve 33609
UAD Neve 88RS
UAD Precision De-Esser
UAD Precision Maximizer
UAD UA 610-B
Waves H Delay
Waves Manny Marroquin Reverb
Waves RVerb
Waves Q10 EQ
Pro Memembership
Watch all videos for$24.99 / month
Rich Keller
With 4 Grammy Award nominations, 29 Platinum albums, and over 75 million albums sold, it is no surprise that Rich has continued to be a first call mixer and producer for hip hop and R&B royalty like Snoop Dogg, DMX, Jay Z, Nipsey Hussle Alicia Keys, Swizz Beatz, Lil Wayne, Mariah Carey, Method Man, Rick Ross, and many many more.
Rich's career spans the breadth of hip hop since 1992, earning him official "OG" status.
Rich attended North Texas State University and the City College of New York where he studied jazz bass with legendary bassist Ron Carter.
Credits
DMX
P Diddy
Nas
Snoop Dog
The Lox
Method Man