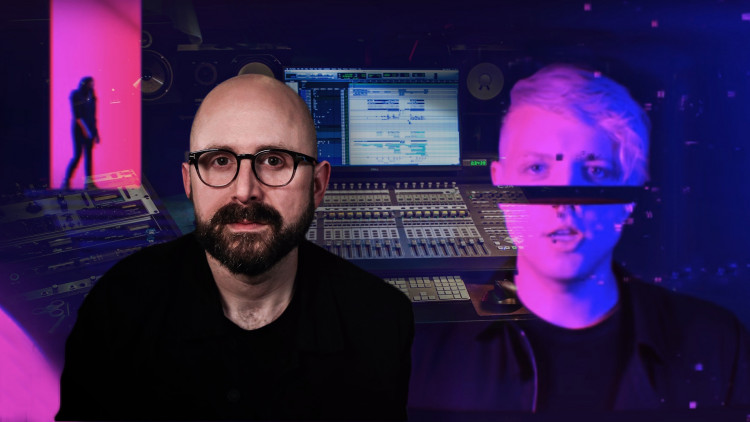 01h 42min
(30)
Throughout the past ten years, Robert Delong has climbed to the top of the charts with his genre-bending electro-pop hits. When the time came to mix 2018's "Favorite Color Is Blue", Robert called upon Adam Hawkins to mix the hit single.
In this pureMix.net Exclusive, multi-award-winning mixing engineer, Adam Hawkins, returns to the original Pro Tools session of "Favorite Color Is Blue" to dissect the choices he made and explain the thought process, workflow, and techniques that helped this massive song explode across the world.
Watch as Adam:
Discusses delivering mixes at loud levels when receiving a loud rough mix
Track Organization
Explains how to deal with excessively bright tracks
Deals with resonances on individual tracks that can mask and clutter a mix
Uses various techniques to widen the stereo image
Creates a multiple drum parallel busses to build a MASSIVE drum sound while preserving the energy and feel of the groove
Uses compression and saturation to level out the synth bass and make sure it's always present in the mix
Uses multi-mono eq fed into a stereo imaging processor to treat each side differently and expand the stereo width
Modulates reverb to add a tail to the main hook vocal track
Dials in sound effect tracks to make them support the transitions in the songs
Uses multiple stages of compression on K. Flay to create a powerful, textured, and punchy and in your face vocal sound.
Creates space and depth around the vocal with mono delays
Manages chopped and screwed vocals, multiple doubles, chants, and adlibs to create a massive group vocal sound
Sit next to world-renowned mixing engineer, Adam Hawkins, and learn how he mixed the hit song, "Favorite Color Is Blue", by Robert Delong ft. K. Flay. Only on pureMix.net
Software
AIR Stereo Width
AutoTune 8
Black Spring
Black Op Distortion
Bx Console E
Empirical Labs Arouser
FabFilter Pro G
FabFilter Pro Q2
IZotope Ozone 7 Imager
McDSP 6030 Ultimate Comp
Omnipressor
Revibe II
SoundToys Decapitator
SoundToys Devil Loc
SoundToys EchoBoy
SoundToys MicroShift
SoundToys PanMan
SoundToys Radiator
UAD API 2500
UAD EMT 250
UAD Oxford Envolution
UAD Roland Dimension D
UAD Studio D Chorus
UAD UA 1176LN Rev A
UAD UA 1176LN Rev E
Valhalla Room
Valhalla Shimmer
Waves Brauer Motion
Waves dbx-160
Waves H-Delay
Waves J37
Waves RDeEsser
Waves Reel ADT
Waves S1 Imager
Waves SSL Channel
Waves TG12345
Waves Torque
Pro Memembership
Watch all videos for$24.99 / month
Adam Hawkins
Adam Hawkins is a Grammy Award Winning Engineer based in Los Angeles, California.
Originally from New Jersey, he began playing guitar in bands and creating records at the age of 14. Adam got his start in the NYC recording scene, working out of Unique Recording Studios with artists like Big Pun, Rakim, KRS One, Kurtis Blow and more.
After moving to Los Angeles in 2001, he met Mike Elizondo and has worked closely with him as a tracking and mixing engineer ever since.
Adam has worked with artists such as Twenty One Pilots, Muse, Switchfoot, The Regrettes, K Flay, Robert Delong, Walk the Moon, Avenged Sevenfold, Gary Clark Jr., Regina Spektor, Tegan & Sara, Kimbra, L.P., JoJo, Mastodon, Michelle Branch,Keith Urban, Rilo Kiley, Alanis Morissette, Moby, Eminem, Maroon 5, Fionna Apple, 50 Cent, Rod Stewart, P!nk, Nelly Furtado, DMX, Eve, Jason Mraz and up and coming artists such as Half Alive, Call Me Karizma, The Score, and Winnetka Bowling League.
Adam spends most of his time mixing these days from his studio Acacia Sound in Thousand Oaks, California.
Credits
twenty one pilots
Muse
Switchfoot
The Regrettes
K Flay
Robert Delong