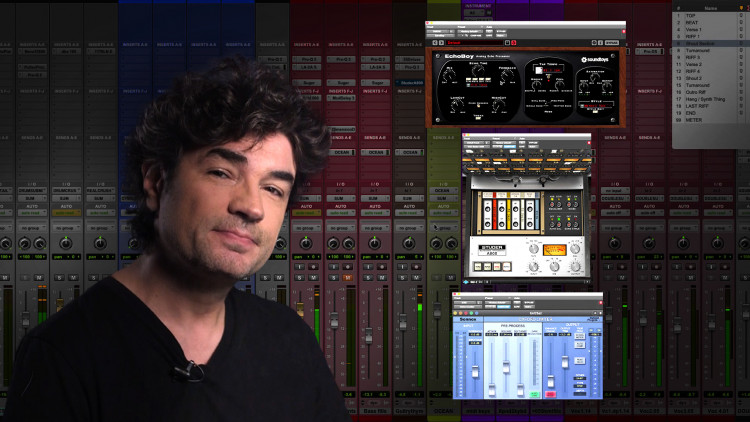 54min
(19)
With a mix in place that Fab is feeling good about, it's time to bring Adrian back to hear it. As Fab and Adrian revisit the mix, they address revisions and continue to add on to "Some Summer Day."
See how Fab Dupont:
Reviews the mix with Adrian
Cleans up the arrangement edits
Adds several automation moves to create memorable moments and scene changes throughout the mix
Explains how to create depth
Creates an exciting outro to the song by editing extra parts and creating a compelling guitar solo
Revisits the mix the next day to tweak the overall tone
Controls the ess-ing on the vocals
Talks about A/Bing between bright and dark mixes
Watch Fab Dupont, mix "Some Summer Day" from Six Of One. Only on pureMix.net
Software
apTrigga 3
FabFilter Pro-DS
FabFilter Pro-MB
FabFilter Pro-Q2
Mod Delay III
Process.Audio Decibel (beta)
Process.Audio Sugar
Sonnox Oxford Dynamics Compressor/Limiter
Sonnox Oxford Limiter
SoundToys Decapitator
Solina V2
Sound Radix Auto-Align
SoundToys EchoBoy
UAD Ampeg SVT TR Classic
UAD dbx 160
UAD EMT 140
UAD EP-34 Tape Echo
UAD Fairchild 670
UAD Fairchild 670
UAD Fender 55 Tweed Deluxe
UAD Little Labs IBP
UAD Neve 33609
UAD Ocean Way Studios
UAD Pultec-Pro Legacy
UAD Roland Dimension D
UAD SSL G Bus Compressor
UAD Studer A800
UAD Teletronix LA-2A Silver
UAD UA 1176 Rev A
UAD UA 1176LN Rev E
Valhalla Plate
Valhalla VintageVerb
XILS V+
Pro Memembership
Watch all videos for$24.99 / month
Fab Dupont
Fab Dupont is an award-winning NYC based record producer, mixing/mastering engineer and co-founder of pureMix.net.
Fab has been playing, writing, producing and mixing music both live and in studios all over the world. He's worked in cities like Paris, Boston, Brussels, Stockholm, London and New York just to name a few.
He has his own studio called FLUX Studios in the East Village of New York City.
Fab has received many accolades around the world, including wins at the Victoires de la Musique, South African Music awards, Pan African Music Awards, US independent music awards. He also has received Latin Grammy nominations and has worked on many Latin Grammy and Grammy-nominated albums.
Credits
David Crosby
Queen Latifah
Jennifer Lopez
Mark Ronson
Les Nubians
Toots And The Maytals