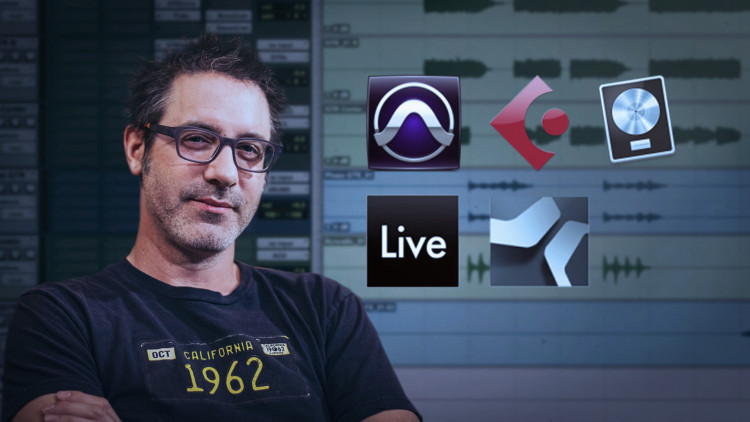 53min
(42)
Grammy Award winner Ryan Hewitt walks you through his ingenious mixing template, showing you how he sets up every session to work with his unique hybrid mixing workflow that allows him to mix quickly and get incredible results every time.
Instead of having to search for plugins and IO settings that he needs for every mix, Ryan has developed a starting point that puts all of his favorite signal paths at his fingertips.
After stepping through his template track by track, Ryan demonstrates how he sets up a song and applies his mixing workflow to every track.
In this tutorial, Ryan will teach you how to:
Use both analog summing and analog processing chains as hardware "plugins"
Mix with multiple parallel processing tracks to create the perfect sonic color for a mix
Keep sessions neat and organized with color coding, bussing, and printing stems
Create super clean and perfectly synchronized drum trigger tracks
Use stereo bus processing to simplify the entire mixing process
Differentiate sections of the lead vocal performance with unique and shared processing tricks
Stop looking at the meters and trust your ears to create excitement and energy in the mix
Printing mixes both with and without analog tape and limiting his clients are expecting to hear
Learn how Ryan uses his mix template then download his original session file (with plugin settings!) as well as translated versions of his template using stock plugins as inspiration to create your own custom mixing template based on his trademark mixing style and tricks.
Once you have seen how Ryan does it, you can download his personal template perfectly translated for the following DAWs:
Pro Tools

Logic Pro X

Studio One

Cubase

Ableton Live
Hardware
API 2500
Aphex 204
Aphex II
Chandler Limited Curve Bender
Chandler Limited TG1
DBX 160
DBX 161
Manley Massive Passive EQ
Manley Pultec EQ
Maug EQ2
Moog EQ
NTI EQ3
Neve 33609
Smart C2
Standard Audio Stretch
Transient Designer
UA 1176
AIR Stereo Width
Audio Ease altiVerb XL
Avic Time Adjuster
Avid Expander / Gate
Brainworx Bx_limiter
Fabfilter Pro-L
Fabfilter Pro-Q2
Focusrite d2
Slate Trigger 2
Softube TSAR-1 Reveb
Softube Tonelux Tilt
Soundtoys Echoboy
Soundtoys Micro Shift
UAD AKG BX20
UAD EMT 140
UAD Fairchild 660
UAD Lexicon 224
UAD Little Labs IBP
UAD Ocean Ways Studio
UAD Roland Dimension D
UAD The Culture Vulture
Valhalla Room
Waves CLA-76
Pro Memembership
Watch all videos for$24.99 / month
Ryan Hewitt
Ryan Hewitt is a Grammy winning engineer, mixer and producer with a credit list spanning all popular genres of music.
Ryan found his love for music and recording working along side his father, famed remote recording engineer David Hewitt.
After earning a degree at Tufts University in Boston, Ryan moved to New York City to work at Sony Music Studios. Opportunities then took Ryan to Los Angeles where he began working with The Red Hot Chili Peppers and Rick Rubin. This led to Ryan engineering and mixing the Peppers' multiple-Grammy-winning double album, Stadium Arcadium.
Rick and Ryan have continued to work together on a number of projects with artists such as Angus and Julia Stone, Brandi Carlile, Lady Gaga and Johnny Cash, as well as three albums and three live DVDs for The Avett Brothers.
Credits
Blink 182
Red Hot Chili Peppers
The Lumineers
The Avett Brothers
Tom Petty & The Heartbreakers