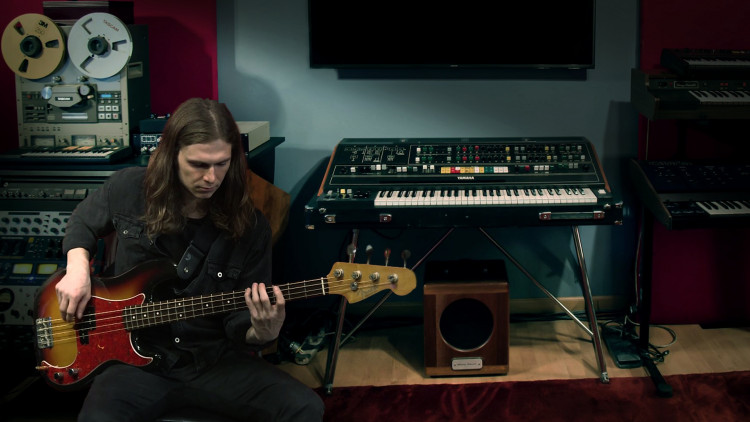 33min
(22)
With singer/Guitarist Rich Tuorto and drummer Bryan Garbe are ready to go, it's onto the rhythm guitar and bass sounds to finish getting the band ready for tracking.
See how Jacquire King and Kolton Lee:
Mic up Chris's guitar amp, and explains his microphone choice and placement in detail
Bring up the microphones on the Neve console and get the perfect blend between the C414 and SM57
Explain the phase relationship between the two speakers in Chris's amp and audition polarity inversions moving each microphone individually and as a group
Recall the bass guitar amp settings from another song on the record as a starting point
Explain their session documentation process, which includes photos of all of the instrument and amplifier settings and detailed session documentation
Mic up the bass cabinet and dial in the sound on the Neve
Chase after a ground hum on the bass guitar, checking each step of the signal path
Watch Jacquire King and Oak & Ash create "Keep The Light On" from Start To Finish. Only on pureMix.net
Find all episodes here!
Hardware
AKG C414
Avalon Tube DI
Chandler Limited LTD-1
DBX 160
Distressor
Electro-Voice RE-20
Fender Twin
Shure SM57
Pro Memembership
Watch all videos for$24.99 / month
Jacquire King
Award-winning Producer, Engineer, and Mixer, Jacquire King, has worked with some of the world's most influential artists in every role you can imagine in a recording studio. From being an acclaimed recordist to mixing and producing multi-platinum records (9X in the case of Kings Of Leon) by superstars like Kaleo, Modest Mouse, Kings of Leon, Tom Waits, Norah Jones, Buddy Guy, Cold War Kids, MuteMath, Melissa Etheridge, and James Bay.
To date, Jacquire has received several awards for his meticulous attention to detail and unique approach to creating records that withstand the test of time.
His discography is well-known for the variety of music encompassed from the past 20 years. When you see Jacquire's tutorials on pureMix, you will have the chance to sit next to a true master at work, who strives to enhance the artist's vision and serve the songs he helps deliver to the masses.
Credits
Kings of Leon
Tom Waits
James Bay
Modest Mouse
Buddy Guy
Norah Jones