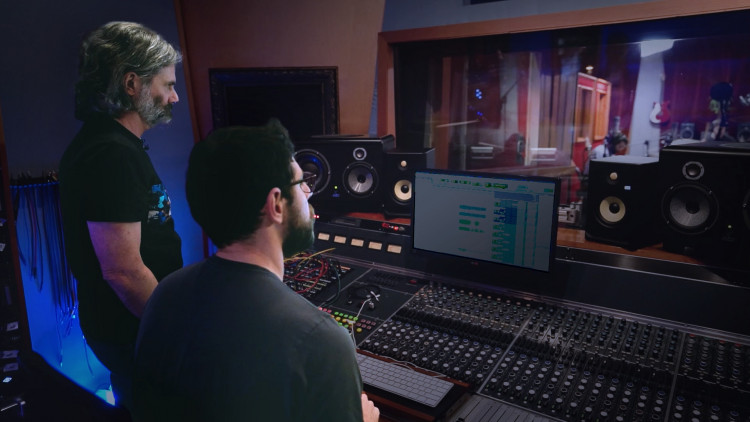 43min
(18)
Now that the sounds are all dialed in and the programmed tracks are sitting in a good place, it's time to record the entire band and get some takes live off the floor!
Watch As Jacquire:
Adjusts settings as the band's intensity increases when they feel more comfortable with the song
Guides the band to keep the right feel and not push the tempo and groove of the choruses
Reviews the takes with the band to find the master take and options for the final chorus and outro
Checks the additional production against the band's performance
Comps together the perfect master take
Works out the baseline for the bridge and punch overdubs with Paul
Watch Jacquire King produce "Keep The Light On" from Oak & Ash from Start To Finish only on pureMix.net
Find all episodes here!
Hardware
1974 Custom Neve Console
ADR F760 R
Avalon Tube DI
Chandler LTD
Cloud Lifter
Distressor
GML EQ
SSL G383 EQ
Teletronix LA-2A
Teletronix LA-3A
Whirlwind DI
Mics
AKG 414
AKG D12
Audix D6
Dr. Sample
Electro-Voice RE-20
RCA 77-DX
Mojave MA200
Neumann U87
Royer SF24
Shure SM57
Shure SM7
Pro Memembership
Watch all videos for$24.99 / month
Jacquire King
Award-winning Producer, Engineer, and Mixer, Jacquire King, has worked with some of the world's most influential artists in every role you can imagine in a recording studio. From being an acclaimed recordist to mixing and producing multi-platinum records (9X in the case of Kings Of Leon) by superstars like Kaleo, Modest Mouse, Kings of Leon, Tom Waits, Norah Jones, Buddy Guy, Cold War Kids, MuteMath, Melissa Etheridge, and James Bay.
To date, Jacquire has received several awards for his meticulous attention to detail and unique approach to creating records that withstand the test of time.
His discography is well-known for the variety of music encompassed from the past 20 years. When you see Jacquire's tutorials on pureMix, you will have the chance to sit next to a true master at work, who strives to enhance the artist's vision and serve the songs he helps deliver to the masses.
Credits
Kings of Leon
Tom Waits
James Bay
Modest Mouse
Buddy Guy
Norah Jones