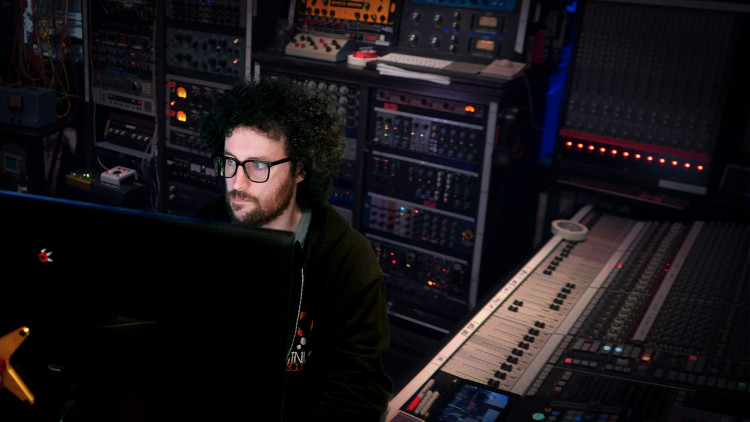 31min
(7)
After laying down the final bass tracks, Vance sends the session up to Studio B with his assistant engineer, Mike Fahey, to edit the takes and get everything to lay in the pocket.
Watch as Mike:
Explains how he and Vance can share sessions via the network from room to room
Setups of the session for editing and gives best practices for being able to find your way back through previous versions of the session
Edits the bass synth, bass guitar, Clavinova, and rhythm guitars to fit in the groove for a tighter performance that is still in the pocket
This is your chance to join Nashville legend Vance Powell and The Weird Sisters at the world-famous Blackbird Studio and watch them craft "Live And I Learn" from Start To Finish.
Pro Memembership
Watch all videos for$24.99 / month
Vance Powell
Vance studied electrical engineering in Missouri and started his career in live sound as a front-of-house engineer. In 2002, he moved to Nashville in order to become studio manager and chief engineer at the legendary Black Bird studios in Nashville. In 2006, he co-founded Sputnik studios along with Grammy-winning engineer Mitch Dane, still in Nashville.
Vance Powell has won 6 Grammy awards working with rock artists such as The Raconteurs, Kings of Leon, Jack White, Pearl Jam, The White Stripes, The Dead Weather and more.
Powell's domain of expertise is definitely mixing and producing rock music. As shown in his pureMix videos, Vance likes to experiment and create new fuller and exciting sounds using all kinds of pedals, echos, analog outboards and plug-ins. Vance was used to recording to tape and definitely has an analog approach that makes him commit to fewer good sounding tracks rather than piling up takes in Pro Tools.
His goal is to make something new and warm that fits the band's vision with upfront snare drums and powerful guitars. Rocking.
Credits
Jack White
Chris Stapleton
The Deadweather
The Raconteurs
Arctic Monkeys
Wolfmother